Note:  Should be used topically only!!!.  Orally has shown some mutagenic properties with a chemical in it, pyrrolizidine alkaloids (PA).
Some manufacturers claim their topical creams are PA free.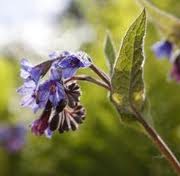 Comfrey Root has been used for a long time for wounds and sprains/strains. Recently research has been done to show effectiveness.
There are several alternatives to normal pain medicine for relief.  Bromalain is also a very good anti-inflammatory.  Herbs can have less side effects than medication, but they do have possible issues.  They can interact with certain drugs and certain people can be allergic to comfrey root.
Herbs should be used under supervision of an educated healthcare practitioner and you should inform your primary care physician of all herbs/supplements because of possible interactions with medications.
Some people  do not want to discuss alternative treatments they are doing with their primary physician because they might think they would get lectured or thought of differently.  More and more research is showing benefits to 'main stream' medicine and your doctor most likely is embracing this.
From
http://www.chiroaccess.com/Articles/Comfrey-Root–Evidence-Based-Safety-and-Effectiveness.aspx?id=0000306
Comfrey root has been used for centuries in the treatment of wounds and sprains and strains (1).  Yet, in spite of common usage, Medline did not index a clinical trial relating to comfrey until 2001 (2)  .  Since then 6 additional trials have been published which provide valuable evidence relating to the safety and effectiveness for several conditions which are common in chiropractic practice (3-8) .
Possibly the greatest obstacle to the wide spread use of comfrey is the concern over the presence of pyrrolizidine alkaloids (PA) in comfrey root which have demonstrated hepatotoxic, carcinogenic and mutagenic properties in oral preparations (9).  For this reason only topical preparations are considered safe.  Some manufacturers claim their product is PA free (9;10).
Back Pain:  The effectiveness of comfrey root extract was recently demonstrated in a double blind randomized clinical trial (RCT) with 120 subjects over 5 days for acute upper and lower back pain.  The primary outcome measure was the visual analog scale (VAS) on active movement.  Included in the secondary outcome measures were the VAS during rest.  The treatment group experienced a 95.2% decrease in pain while the placebo group experienced a 37.8% decrease in pain.  Dosage of comfrey root ointment was 4 grams of ointment 3 times per day.  The authors concluded the results were "clear cut and consistent" and reported improvement began within 1 hour of application (4).  An earlier RCT of 215 patients compared a 10% comfrey ointment to a 1% ointment.  Pain on motion, rest and palpation was significantly improved in the 10% cohort for upper and lower muscular back pain.  Tolerability of the comfrey was good to excellent in all patients (7).
Osteoarthritis:  In 2007 another RCT investigated the effectiveness of a comfrey root ointment in the treatment of knee osteoarthritis over a period of 3 weeks.  This study enrolled 220 subjects with an average age of 57.9 years.  Dosage in this trial was 2 grams 3 times per day.  In this study the VAS dropped 54.7% in the treatment group and 10.7% in the placebo group.  Statistical significance was achieved (p<.001).  Additionally statistically significant improvements were noted in quality of life, mobility, and physician and patient assessment.  There were no adverse reactions reported (5).
Ankle Sprain:  Three separate studies have demonstrated the effectiveness of comfrey root ointment in the treatment of acute ankle sprains.  In one observational study 492 questionnaires were returned from patients with ankle sprains and their physicians.  Overall 45-47% improvement in pain and tenderness was observed (3).  Two other RCTs with 162 and 142 patients respectively found comfrey root to be superior to the placebo in 1 study (6) and equal in effectiveness to Diclofenic gel in the other (8).  Of interest in the Diclofenac study was the author observation that comfrey root may actually be superior based on primary and secondary variables.
It should be noted that many of the clinical trials referenced above were funded by product manufacturers.  The physician should be alert to possible bias in these studies as a result.
Note:  These mini-reviews are designed as updates and direct the reader to the full text of current research.  The abstracts presented here are no substitute for reading and critically reviewing the full text of the original research.  Where permitted we will direct the reader to that full text.